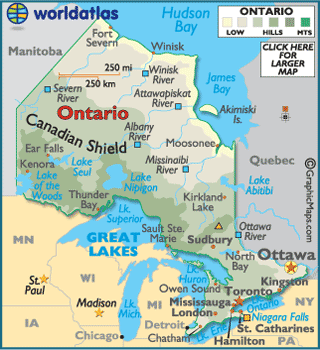 Come visit and zip line Ontario, Canada today!
Ontario believes itself to be the most sophisticated province in Canada and even though it has cold and empty places, this is the place that people come for haute cuisine, culture and art. Forget conifer forests, bears and ice fishing, this is urban, big city exciting Canada. And the zip lines don't mess around either! Below you'll find logos and links to our favorite zip lines in Ontario. Visit those pages to learn about each zip lining company in Ontario.

Most of the population of Ontario live within a few hundred miles of the border with the US where the winters are mostly bearable and warm summers encourage an outdoor lifestyle. Toronto is here, Canada's largest city is a metropolis bursting with entertainment, multi-cultural arts and fine dining. Ottawa is also changing, it's no longer a boring, political enclave and now it too will be as hip and upbeat as you want.

If cities and urban activities don't do it for you, you can take a short trip to the historic settlements, vineyards and rural agricultural towns which define the province's intrinsic identity.

Niagara Falls is in Ontario and there are very few people on the planet that won't stand in awe of one of the most natural wonders of the world.

Ontario also has the only Zip flyer in Canada, a zip line which allows zippers to sit in a chair and fly over the valley for almost 3000 feet at up to 25 miles per hour.

Ontario is easy to get to from all over the world; it has international airports and a good rail network.
Ontario Zip Line Companies