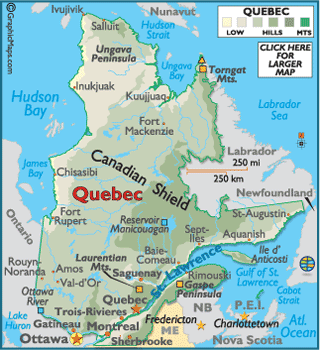 Quebec is quite simply unique; it is a piece of Europe in days gone by in the middle of modern North America and has a down to earth, lively population who are eager to show their city off to everyone who wants to see it (including their zip lines). The fortified city of Quebec perches on a cliff and the walls now protect the living museum of the old town with cobbled streets, old houses and plaques that mark battle grounds; the old town is on the UN world heritage list.

The climate makes any season a good time to visit, summer is very busy but the large crowds create a buzz and street scene, summer is also festival time with exhibitions and tours available for those who want to learn more about this fascinating place.

Spring and Fall have beautiful colors, lower prices and fewer people but even in the winter you can have fun in Quebec; the annual winter carnival is one of the biggest and most successful festivals anywhere in Canada.
If you need a break from the city, take a day out in the adventure park, it has zip lines that allow you to walk through the tree tops instead of beneath them. There are monkey bridges, rope bridges, net gangways and suspended paths that will get the adrenaline pumping again.
Quebec has an international airport and easily accessible from anywhere in the world.