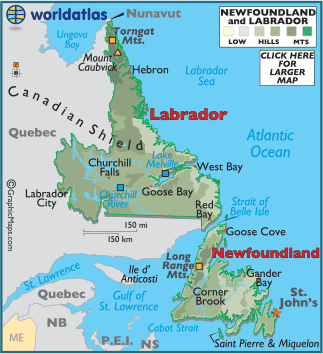 Unique is an overused word but it doesn't apply to anywhere more than it does Newfoundland, the place with a time zone of its own. Despite its isolation, funny language and weird food, Newfoundland has got it going on and is slowly creeping up the top ten lists of travelers from all over the world. We'd like to think it's because of the zip lines. Add TV and film crews to the people who are flocking to the area and you get a tiny idea of the treasures that Newfoundland has in spades.

Some of the best that Newfoundland has to offer can only be experienced at dawn, puffin chicks learning to fly and whales basking in the freezing water before they begin their daily search for food. If you manage to get far enough north, there will be icebergs drifting south before melting in the slightly warmer waters of the coast.

In recognition of the new visitors to Newfoundland, a zip line has been built that offers thrill seekers an activity unlike any other. Zippers can enjoy a ride that is a cross between flying and parachuting and can be used by dare devils of every age. This environmentally friendly tour has loads of viewing platforms overlooking the Humber Valley and on a clear day, the whole province is laid out in front of lucky participants.

It isn't super easy to get to Newfoundland but where there is a zip line there is a way! No international airport and most travelers arrive by boat.