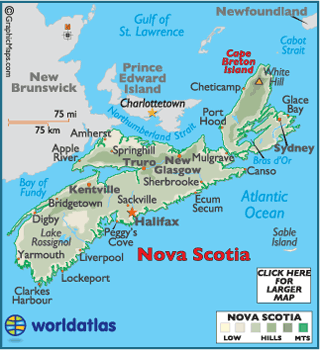 Summertime in Nova Scotia is stunning and lends itself to a healthy lifestyle which is spent outdoors and zip lining! There are cultural tours, outdoor tours, wine tours, discovery events, music festivals, tall ship races and glorious beaches; summer in Nova Scotia is a time for fun in the sun.

Fall in Nova Scotia is the annual season of the harvest and it is celebrated everywhere, there are live music festivals, Halloween events and the cuisine of the area comes into its own with a visit to a farmers market bursting with local produce is a heart-warming experience. It's great time to take a zip line tour.

Nova Scotia is equally comfortable with winter as it is with summer; there are snowy trails to follow on ski, snowmobile or snow shoes. Spas to soothe your soul and weekend getaways to cosy hotels will make the season pass quickly.

Spring in Nova Scotia is the season of renewal and reawakening, people gather to plan the coming year, spend time with each other in public gardens and parks and enjoy the warmth of the air.

One activity that was originally devised for tourists but has also proved popular with locals is the adventure park which includes zip lines suitable for all ages and abilities although the longest, steepest lines are definitely only suitable for adrenalin junkies.

There is no international airport in Nova Scotia but the area is well served by trains, buses and boats.