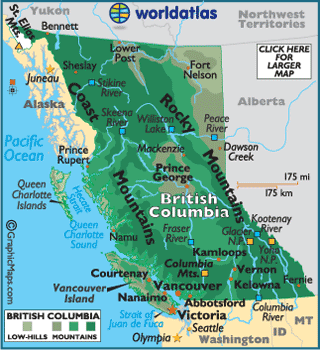 British Columbia is on the west coast of Canada and is a province with a mild climate and huge diversity (and awesome zip lines). There is an endless list of things to and places to see, history to discover, mountains to climb, art to view, animals to watch, snow to ski and beaches to comb. Although it won't be difficult to find things to do in British Columbia, it may be difficult to fit everything into your itinerary.

The activities on offer are endless and can be done almost all year round, the mild climate means that visitors are able to sail in the morning and ski in the afternoon. But for the more urban inclined visitor there are the cities in the south of British Columbia that attract international shoppers and visitors who want to explore the culture on offer.

Man-made adventure comes in the form of activity parks with spectacular backdrops and with activities to challenge all the family. Zip lines with bungee bridges and wooden tree platforms that allow riders to find new excitement and energy with every visit. The five line circuit provides an adrenaline rush for even the bravest thrill seekers and offers unique and spectacular views for miles.

British Columbia's only international airport is in Vancouver although there are 2 gateway airports further north.