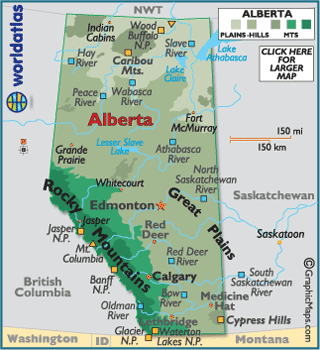 Alberta has been slow to get off the starting block as there are signs of indigenous human habitation dating back thousands of years but it was only with the arrival of the Europeans that Alberta began to change and evolve (although zip lines came much later). When the railway arrived in Alberta so did more people, mainly farmers who established an economy based on farming until gas and oil were discovered and turned Alberta into one of the most powerful economies on the planet.

The territory has mountains, small mountains, medium mountains, big mountains and the huge mountains which rise from the flatlands and stand like a fortress at its border. There are glaciers, peaks, lakes and rivers as well as iconic and isolated towns such as Jasper and Banff. Alberta has national parks which are havens for moose and bear but still allow hikers, cyclists and skiers.

If your pleasures are of a more urban variety, Edmonton has one of the coolest neighborhoods to be found in all Canada as well as the world's largest shopping center. Calgary was a cowboy town but is now booming with the money that oil brings and the people who spend it.

One of the latest adventures on offer for locals and visitors alike is an adventure park with a zip line system that follows the side of the mountain and crosses the river below.

Alberta is easy to access from anywhere in the world with excellent air and rail links.