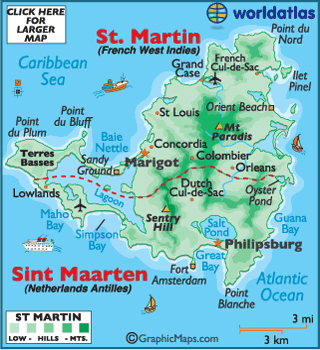 As well as a colorful and interesting history, St Martin (Sint Maarten) has lots to offer the many travelers who visit this fascinating place every year.

After centuries of Caribbean islands being conquered and re-conquered by a host of countries from the other side of the earth, St. Martin has been jointly owned by the Dutch and the French for many years.

This rather arbitrary split has given the island 2 distinct personalities which are some-times at odds to each other as they struggle to assert their individual roots, but the reality is that this dual character makes the sum of this fascinating island very much greater than its individual parts.

As you would imagine a lot of the activities offered on St. Martin are centered on and around the exotic palm fringed beaches and perfect turquoise water, visitors can snorkel and scuba dive amongst the many reefs and tiny little offshore islands.

Adrenalin junkies should head to the islands adventure park and tree top zip line where they can fly between the mahogany and mango trees on cables, ropes and bridges. There's a great obstacle course for children to develop their zipping skills too.

International travelers can get to St. Martin via air or sea, there are 2 airports, a regular ferry service from other islands and it is a cruise destination.