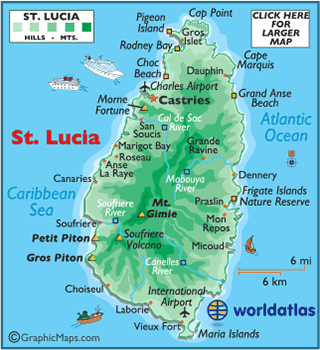 St. Lucia has been a desirable destination for wedding parties and honeymooners for many years and as a result developed an unfair reputation as an expensive place to visit.
Although it is true that there is plenty of high class, 5 star accommodation on St Lucia, this fabulous island has so much more for travelers than a few posh beds.
The majority of the beaches are found on the west coast of St Lucia and whether you are looking for magnificent powder soft sand to lie on in seclusion or a huge array of water sports, there will be a beach that suits you.
For the more adventurous traveler, the interior of the island is a rainforest and almost half of the island is protected as a forest that offers hiking, cycling, horse riding and a variety of native fauna and flora that is unmatched anywhere else in the world.
An increasingly popular activity on St. Lucia is the treetop zip line and canopy tour found in St Lucia's adventure park. There are challenging lines that offers an adrenalin rush for thrill seekers as well as guided tours that are suitable for the whole family.
St Lucia has two airports and direct flights are available from the US and Europe.