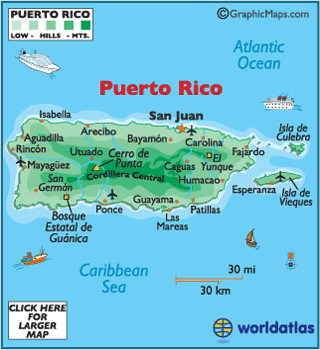 Puerto Rico is diverse in very basic and fundamental way and is where the efficiency of the modern west collides with the laid back style of the Caribbean. The result is a culturally unique and hugely colorful island that can be as confusing as it is cosmopolitan. Trendy restaurants sit next to ancient fortresses and man-made shopping centers push at the edges of the islands natural tropical rain forests.

Puerto Rico is rushing into the 21 century at such a speed that it bewilders visitors, who are interested in the traditions and culture of the island, although they can still find one of the best preserved examples of a colonial city in San Juan.

Outdoor and nature enthusiasts are drawn by the wilderness of Isla Mona, the remoteness of the central mountains and the unexplored reefs and caves that can be found just off the shore of this fascinating place.

A newer but equally popular visitor activity in Puerto Rico is the adventure park which has zip lines and a rappel course; both of which offer zippers an opportunity of viewing the jungle canopy and rainforest from a selection of lines and platforms.

Puerto Rico is one of the easiest islands of the Caribbean to get to, it has an international airport that is well served with flights from the UK, Europe, the US and Australia.