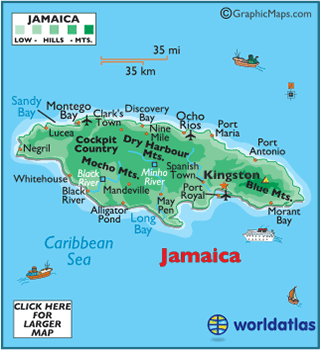 Although Jamaica has many of the same natural attractions as other Caribbean islands, it is separated and identified by its culture and history. Visitors will get more from their trip to Jamaica by embracing its unique character rather than sticking to the sun, sea and sand that can be found on other islands.
Jamaica has more to offer to weary and curious travelers, there are quality reefs, palm fringed beaches, off beat hiking tours, pristine waterfalls, fishing villages, wild life wetlands and cosmopolitan cities on offer. Combined with unforgettable landscapes, seascapes vistas and sunsets, there is enough to see and do in Jamaica for many different vacations.

Jamaica has a much closer connection to Africa than the rest of the Caribbean and Jamaicans infuse the whole country with a sense of pride in their unique history, influential culture and incredible landscape.

Another draw for visitors is the zip line eco tour near to Montego Bay which has a variety of lines; some are suitable for all members of the family whilst others are designed very much with thrill seeking zippers in mind. The longest zip line in the Caribbean is here and riders can fly over the jungle canopy, in awe of the magnificent views of the distant Jamaican hills and river below.

Jamaica has two international airports; it is also a cruise destination and has facilities for private yachts to arrive.